Our Mission

Redesigning fashion so that it empowers farmers, rebuilds soils, pays workers fairly, and reduces plastic waste in the world.

Our Vision

To lead a transformation in regenerative organic cotton farming to heal our planet.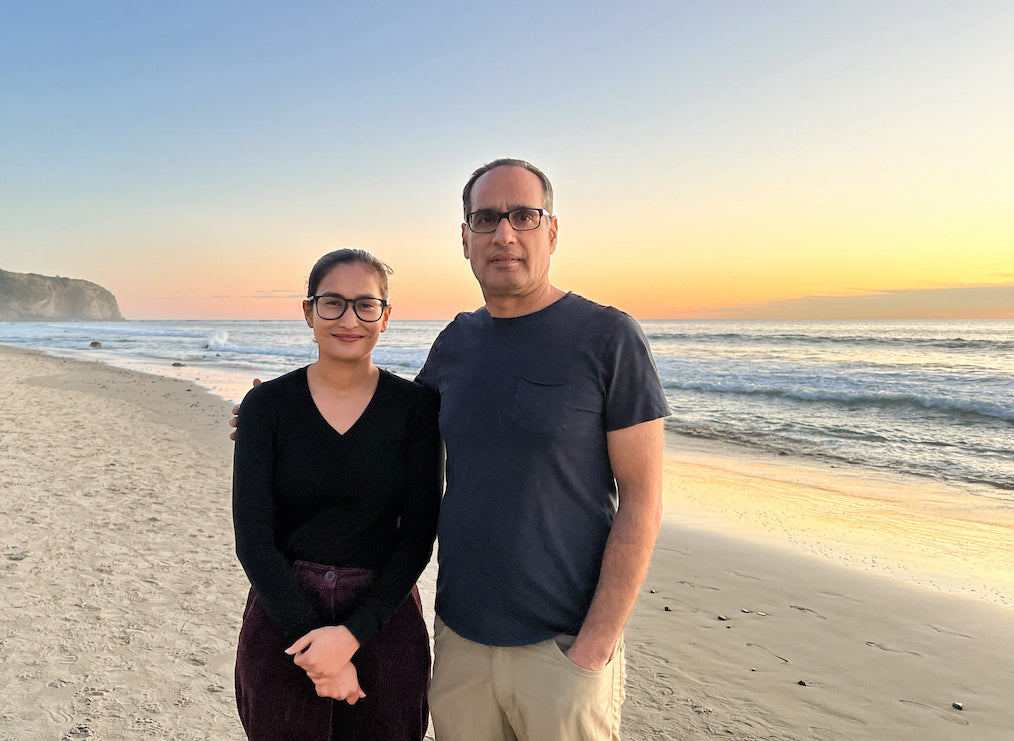 Our Story
TERRA THREAD was founded by father-daughter duo Vik and Vizan Giri who, astounded by the effects of fast fashion, were inspired to create a product that could have a long-lasting positive impact on the planet. 

In 2009, Vik founded Gallant International Inc., a B Corp Certified company that supplies businesses with sustainable promotional and retail products. Gallant International is also Terra Thread's parent company. Throughout college, Vizan worked for Gallant. Her passion for social and environmental justice, coupled with the realization that there was an almost total lack of sustainably-produced backpacks and bags in the market, led to Terra Thread.
Nearly all backpacks and most bags available in the market are made of synthetic fabrics such as polyester, nylon and other plastic-based materials. These synthetic-based bags deplete our natural resources and have a detrimental impact on human lives and the ecosystem during their production, usage and even post-usage. To solve this problem, Terra Thread crafted bags that are made using 100% organic cotton canvas grown by smallholder and tribal families in India who primarily depend on rain-fed agriculture. This means good for both people and the planet.
As an immigrant from Nepal, Vizan has always been connected to South Asia. When the duo started Terra Thread, Vizan was able to connect further with her heritage as all the cotton is sourced from organic cotton farms in India, and the bags are made in a Fair Trade Certified™ factory in India as well. Between Gallant's business practices and trips to visit farmers and factory workers in India, she gained first-hand experience of what it means for a company to take responsibility for their supply chains, as well as the growing demand and need for ethical products. 
Having experienced food paucity himself, co-founder Vik is also passionate about tackling the wider issue of food insecurity, and both Gallant and Terra Thread have joined Feeding America's campaign to end hunger in the United States. 
Terra Thread is a sustainable bag and apparel brand with a mission; to lead a transformation in organic cotton farming, and give consumers better, more planet-friendly choices for everyday essentials.

Created for environmentally conscious consumers and designed to last, Terra Thread believes that great backpacks shouldn't cost the Earth. Recognized by Forbes, Newsweek, TreeHugger and The Good Trade as one of the most sustainable bags on the market, we have sustainability built into our bags at every stage of production. That means fair pay for farmers as well as workers and no toxic chemicals, no synthetic fibers, and no unnecessary packaging. Working directly with organic cotton farmers in India, we've gone to every length to ensure that from start to finish our bags are being made in factories that meet the highest ethical and Fair Trade Standards. And because we want sustainable and ethical fashion to become the norm, we are committed to keeping our products affordable, making them as accessible as possible.
Shop our products
What Makes Terra Thread Different
Fairtrade Organic Cotton

Terra Thread products are made using Fairtrade Certified Organic Cotton. Fairtrade Organic cotton ensures that farmers have access to safe working environments, gender equality, are paid a fair price for their cotton, and a Fairtrade Premium, among other benefits. Organic cotton is produced and certified to organic agricultural standards and is free of toxic chemicals such as pesticides and insecticides as well as GMOs. Fairtrade organic cotton practices and production sustain: Soil health, Eco-system preservation, Wildlife health, and Well-being of people. Learn about Fairtrade Organic Cotton HERE.
GOTS Certified

Terra Thread products are GOTS Certified. GOTS certification is a stringent voluntary global standard for the entire post-harvest process such as spinning, knitting, weaving, dyeing, and manufacturing of apparel and home textiles made with organic fiber. The standard prohibits the use of toxic chemicals during the processing stages and includes strong labor provisions as well a prohibition on child labor. The GOTS symbol means the products have met strict environmental and social criteria during processing along the entire supply chain. Learn more about GOTS certification HERE.
Fair Trade Factory

Terra Thread products are made in a Fair Trade USA Certified Factory. Fair Trade Factory Certification ensures that our factory workers have access to a safe, democratic working environment, gender equality, are paid legal and fair wages, and a Fair Trade premium, among other benefits. Learn more about Fair Trade Certified Factiry standards HERE.
Carbon Neutral Products

Our products are carbon neutral! We create organic and fairtrade bags for businesses and individuals that make the world a better place. We know that the products we make have unavoidable climate impacts. This is why offering carbon-neutral products completes the circle of our commitment to the preservation of our precious earth. Our carbon-neutral products support projects that reduce the impact of those emissions by reducing or sequestering carbon. These projects also have economic, social, and environmental benefits. Learn about the projects we support HERE.
Giving Back