Our products are made in a Fair Trade Certified™ Factory! Fair trade standards ensure safe working conditions and empower workers by advancing their economic development.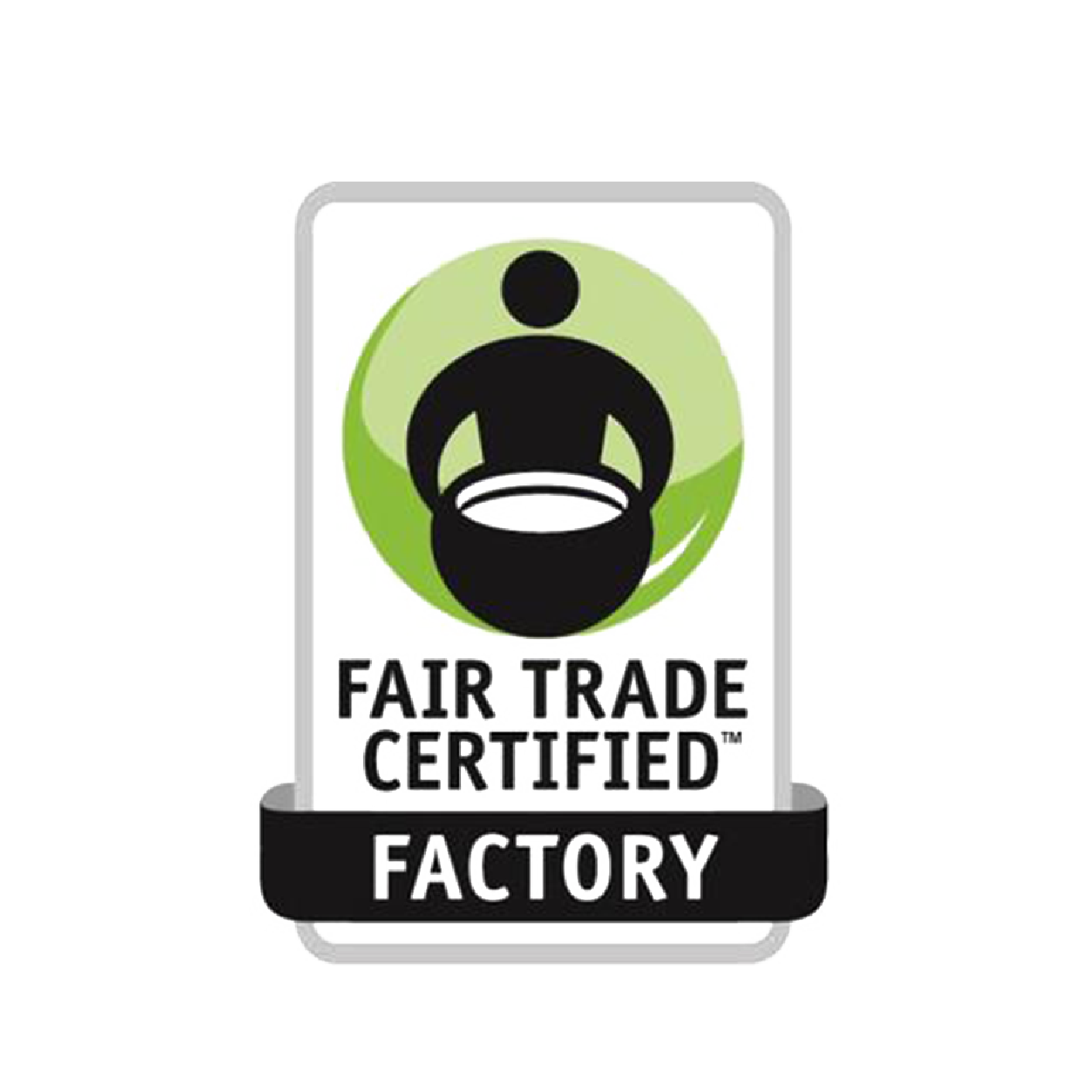 What is Fair Trade Certified™?
Fair Trade Certified is a sustainability certification that focuses on improving lives and protecting the planet.
Fair Trade Certified standards require a supply chain to be traceable and transparent. When businesses make commitments to fair trade, they are investing in improving both the lives
of the communities behind their products and in the quality of those products. Workers, farmers, and fishers who receive more investment utilize that investment both to improve their communities as well as the quality of the
products that they create. 
To use the Fair Trade Certified seal and claim, all entities involved in the production, processing, manufacturing, and handling of the product are required to be certified or registered with Fair Trade USA™.
Why Choose Fair Trade Certified Products?
At Terra Thread, we have a fundamental purpose and vision to promote and instill ethical and sustainable practices. Transparency, traceability, sustainable development, fair employment, empowering people and protecting our planet are at the core of our values.

Fair Trade Certified standards require that all workers receive legal wages and benefits. The certification improves livelihoods of the workers and promotes safe and healthy workplaces, gender equality, women's rights, and a responsible workplace throughout the entire supply chain. Most importantly, fair trade standards prohibit child and/or forced labor.
When you choose Fair Trade Certified products, you become a part of a movement which promotes and supports sustainability in the industry.
Fair Trade Principles
Income sustainability
Rigorous fair trade standards require producers, workers, farmers, and fishers have additional capital and resources to invest in their lives and their work.

Empowerment
Fair trade creates systems and tools that unlock empowerment for millions of people around the world.

Individual and community well-being
A portion of every fair trade purchase is directed to Community Development Funds for investment in initiatives identified by workers and their communities to meet their most pressing needs. The process of democratically electing a Fair trade Committee that manages these projects empowers worker voice and participation—more on Fair Trade Community Development Funds to Workers below.

Environmental stewardship
Fair trade standards protect the planet and help to keep it healthy for generations to come by prohibiting the most harmful chemicals, preventing water contamination, and requiring good waste management practices.
Fair Trade Community Development Funds
Fair trade provides an additional financial contribution to workers on every certified product sold. When you shop for Fair Trade Certified products, you are supporting a sustainable income as well as payment into the Fair Trade Community Development Fund. Rather than creating dependency on aid, Fair Trade Certified uses a market-based approach that empowers workers. Through direct, equitable trade, farmers, workers, and communities can address hunger, send their kids to school, improve their health and living condition, and invest in their futures.

Utilizing the Fair Trade Community Development Fund, workers invest in things like:
Health and sanitation projects
Childcare facility
Bicycles for workers
Cultural celebrations
Medical programs or health insurance policies
Savings accounts & investment schemes
Coupons for basic household Items
Hot plate and cookware sets