Semi Mini Backpack
Regular price

Sale price

$ 64.95
At this time, we do not plan to bring the Semi Mini Backpack. Please check out our Earth Backpack for school and everyday use and our Mini Backpack for more options.
Our new Semi Mini Backpack is a perfect balance of carrying capacity and organization that splits the size difference between our full-sized Earth Pack and the Zem Mini Backpack. Built from our rugged 14-oz canvas made from sustainably-grown certified organic cotton and made in a Fair Trade Certified™ Factory, the Semi Mini is a great school pack for students of all sizes or anyone who wants a scaled down everyday backpack. On the inside, it features a generous main compartment, an internal sleeve for laptops up to 13 inches and an inside hanging pocket to keep pencils and other small items handy. On the outside, there is a deep zippered pocket for easy access and two water bottle sleeves that can carry a rolled up windbreaker, your favorite liquids, or your dog's favorite treats and toys.  
Your purchase also supports Feeding America's campaign to end hunger by helping donate meals to kids and families in need. 
Features

 • Made with 14-oz Certified Fairtrade Organic cotton canvas

• Made in a Fair Trade Certified™ factory

• Approximately 12L capacity

• Internal sleeve fits 13" – 15" inch laptop

• Internal hanging pocket

• Large zippered external pocket

• Two external water bottle pockets

• Lead-free YKK metal zippers and fasteners
Dimensions

 • Bag: 13" (H) x 11" (W) x 5" (D)

• Front Pocket: 11" (H) x 12" (W)

• Inside Pocket: 5" (H) x 9.25" (W)

• Inside hanging pocket 5" (H) X 7" (W)

• Adjustable strap length up to 37"
Care

• Spot clean with a soft damp cloth and dry it

• Machine wash separately in cold water

• Line dry or use low setting in dryer

• Do not use bleach; do not dry clean
Additional Notes

• Our products are shipped without plastic bags or excessive packaging, which may leave behind traces of the journey like marks and folds.

• Our products are handmade; there may be slight visible imperfections and size variations.

• Zipper tape & thread are made of polyester material; while we are searching for a better option, poly is currently the most durable solution.

• Made in a Fair Trade Certified™ Factory in India
Share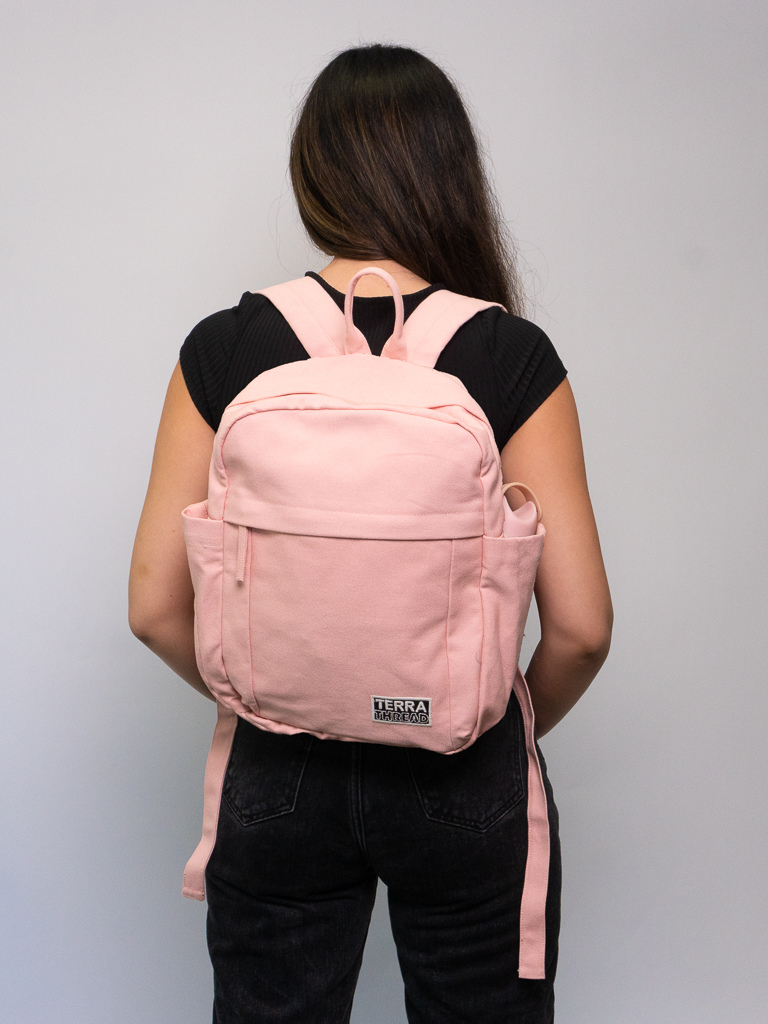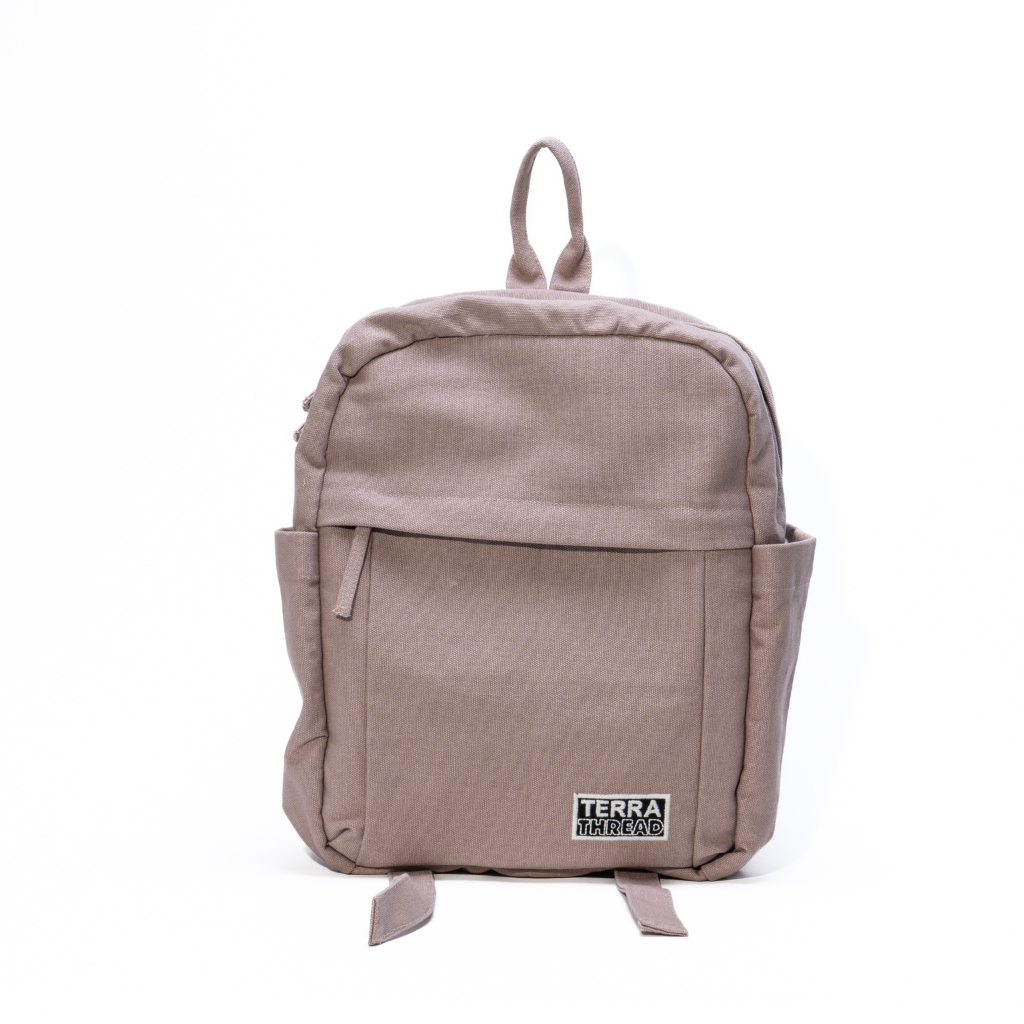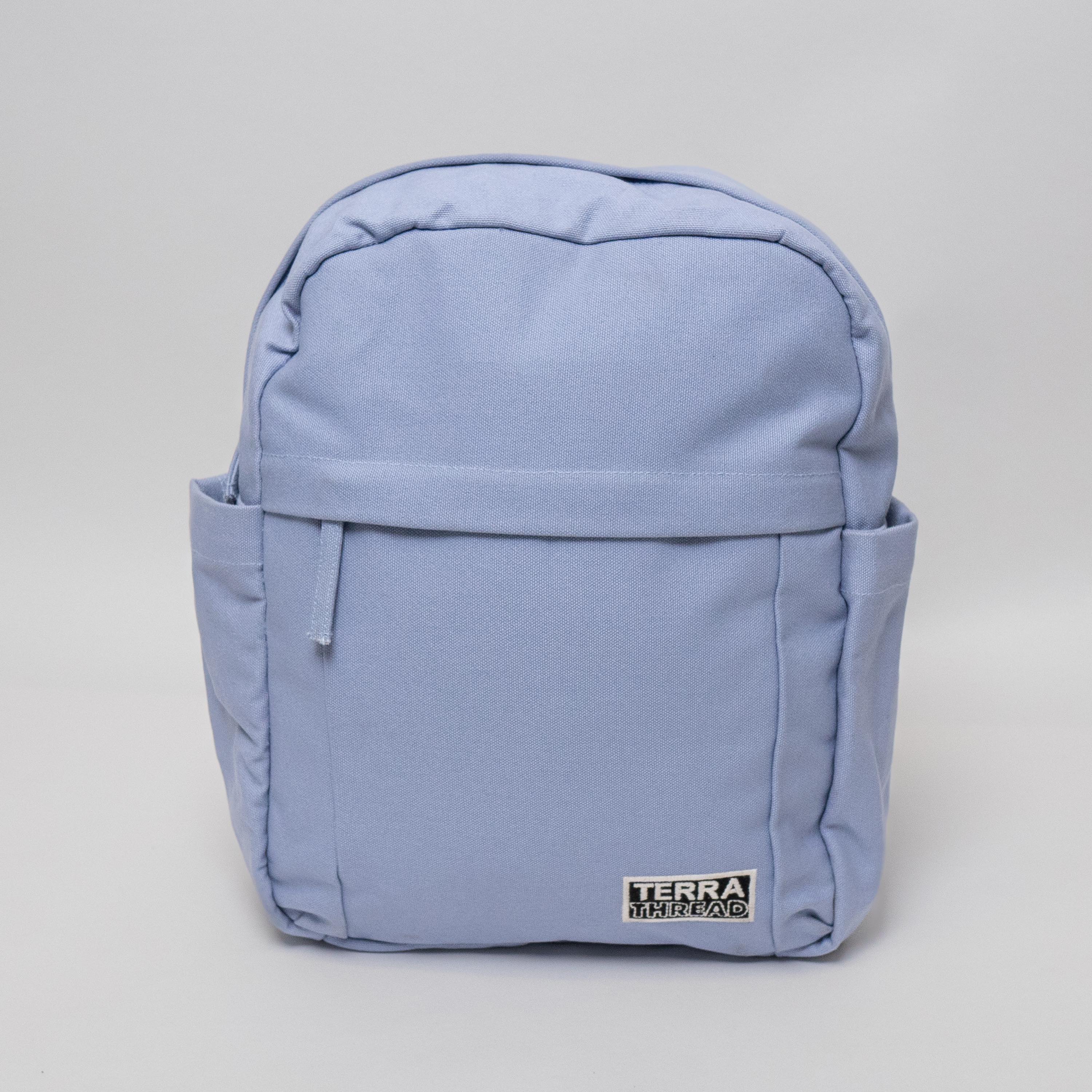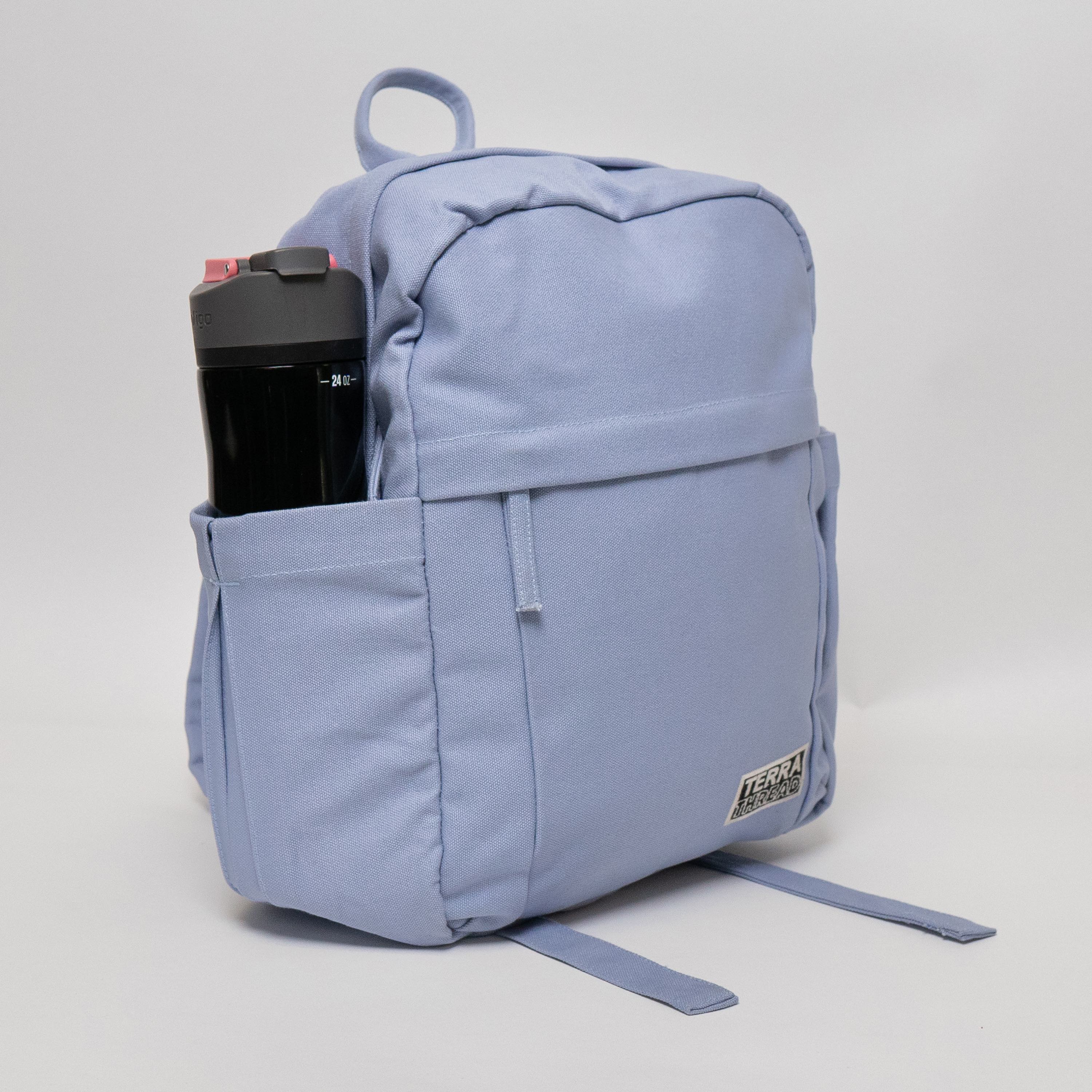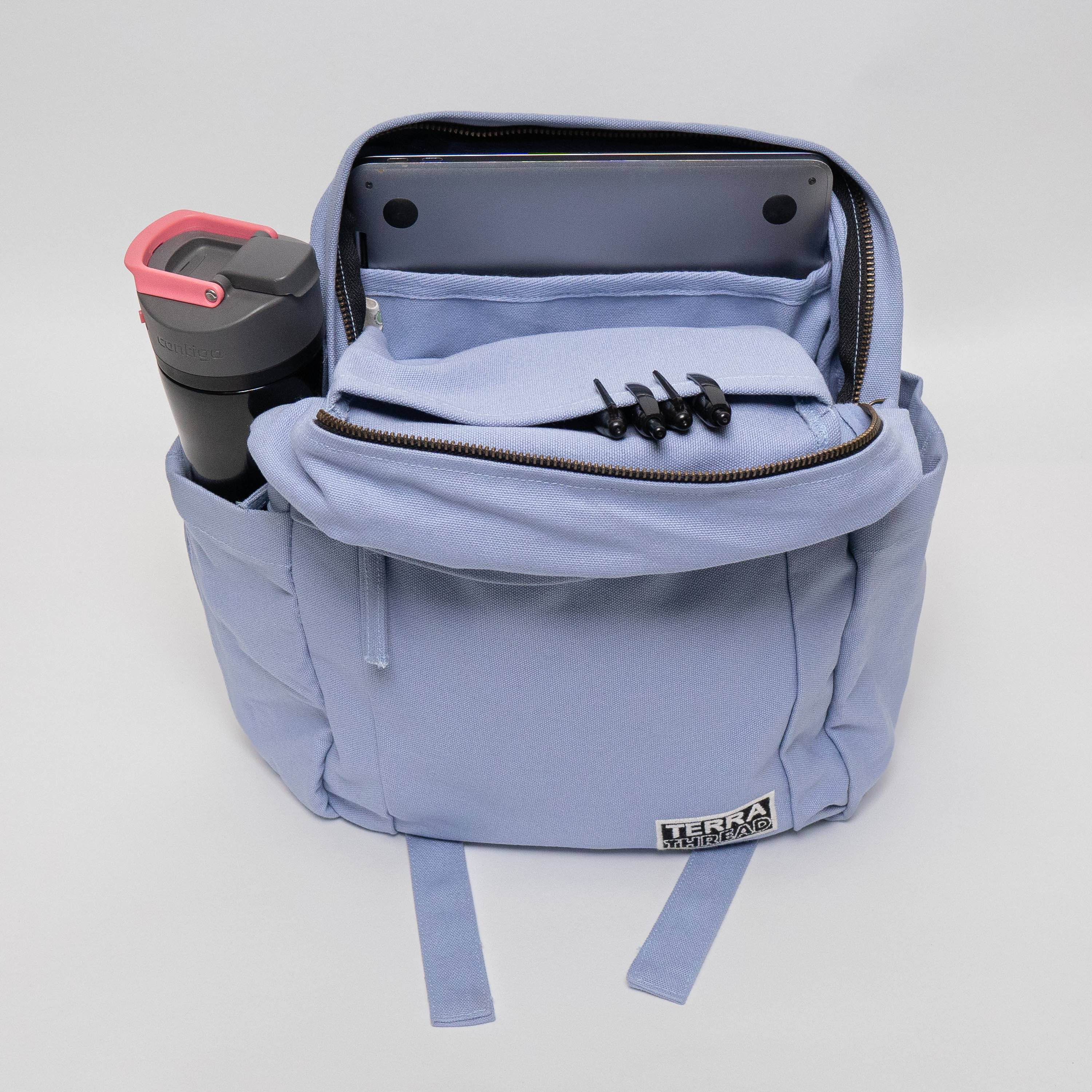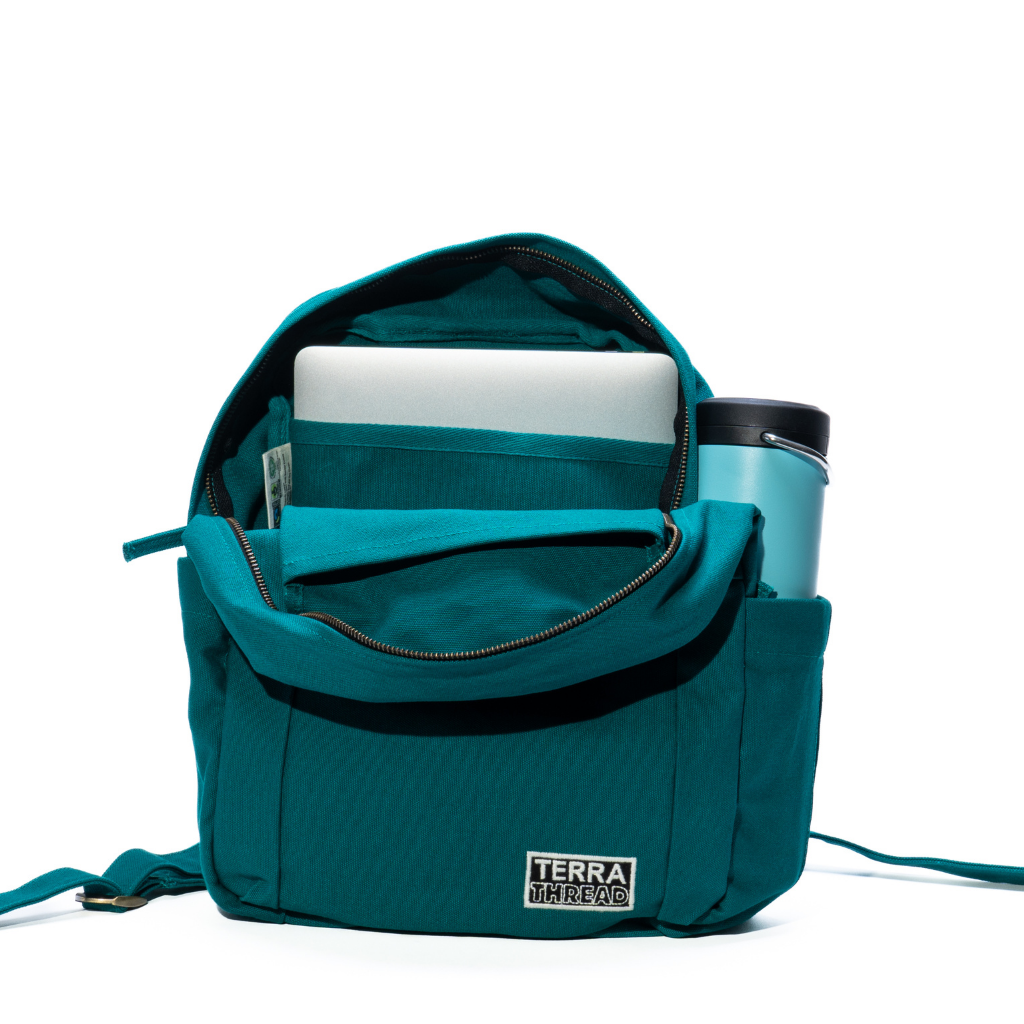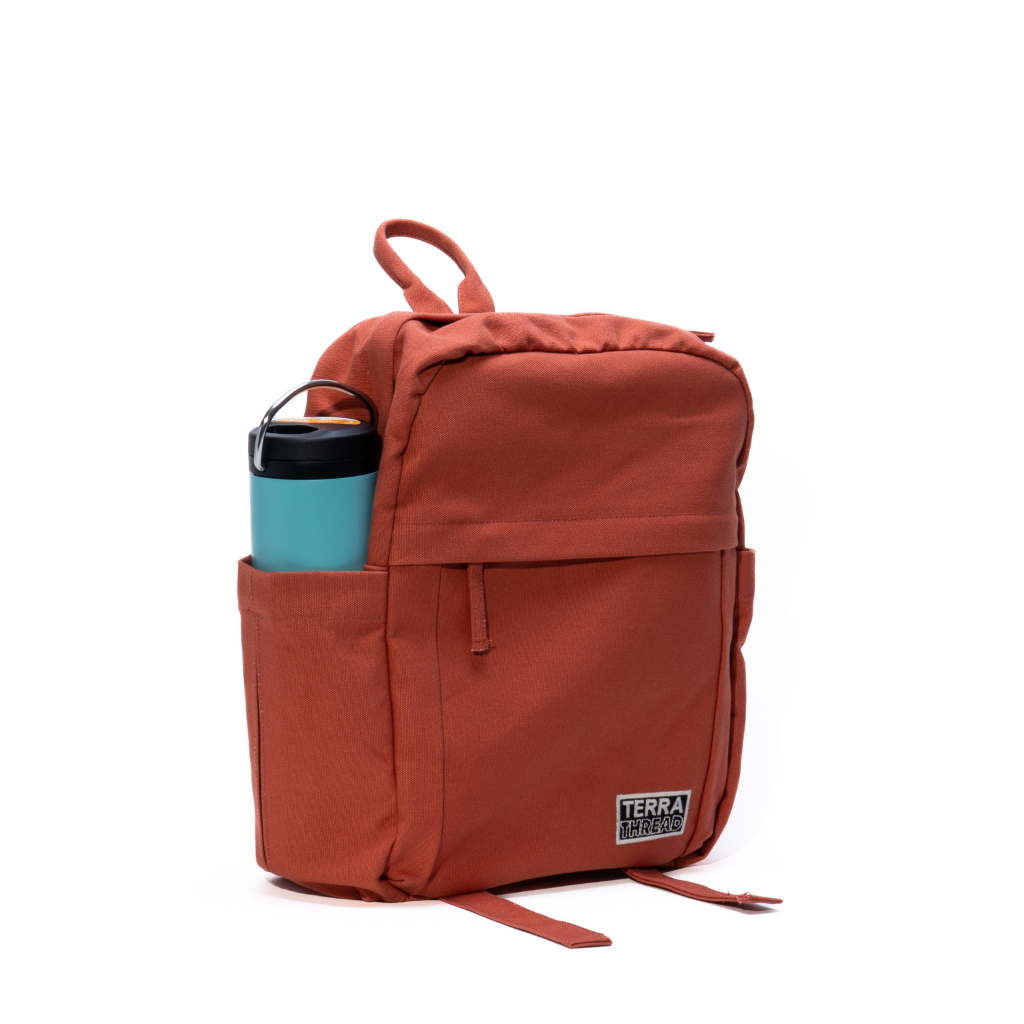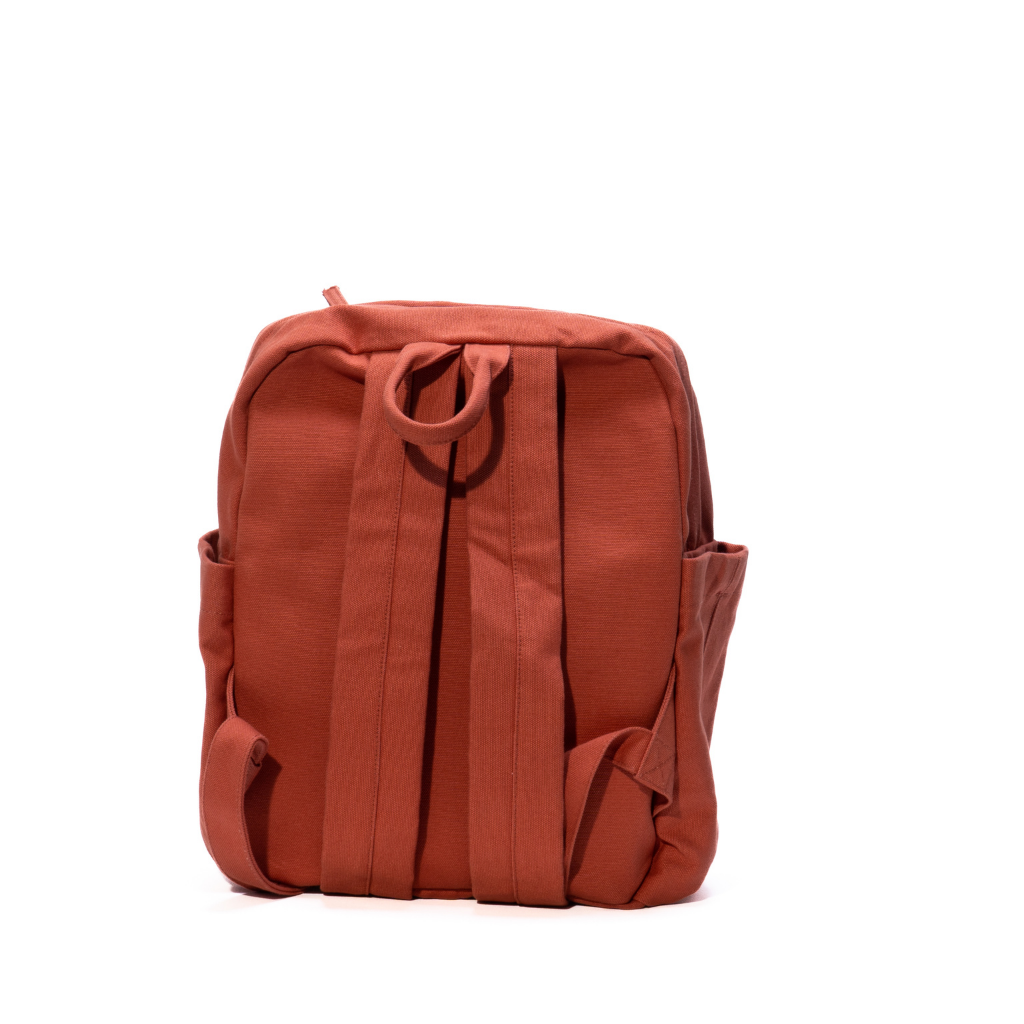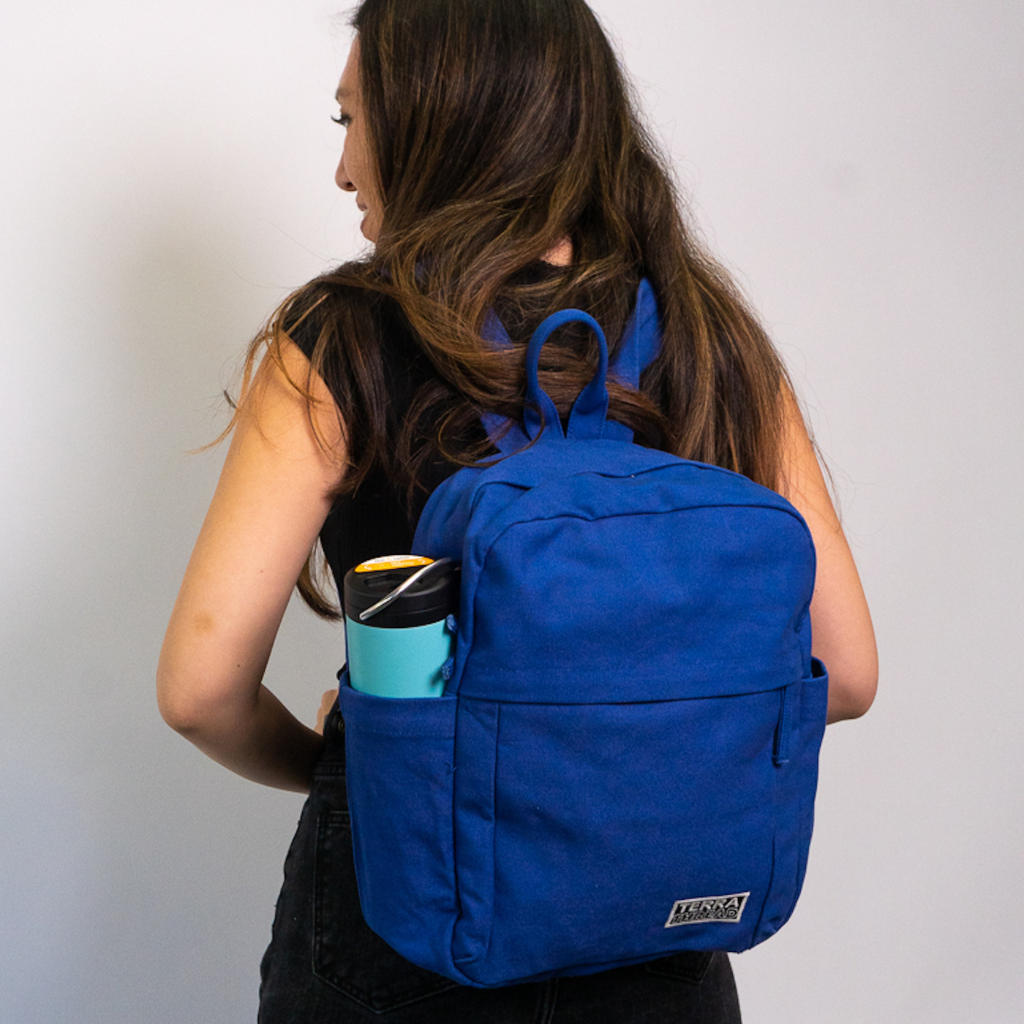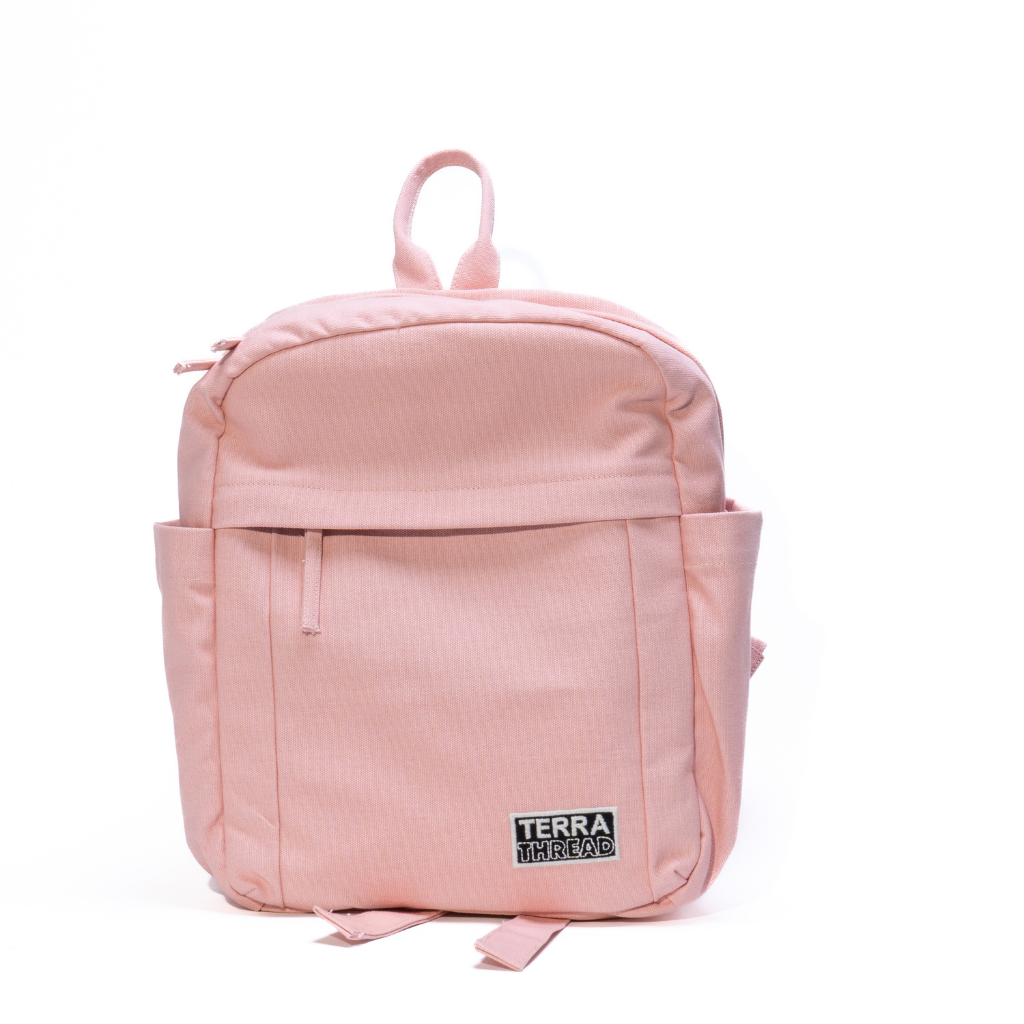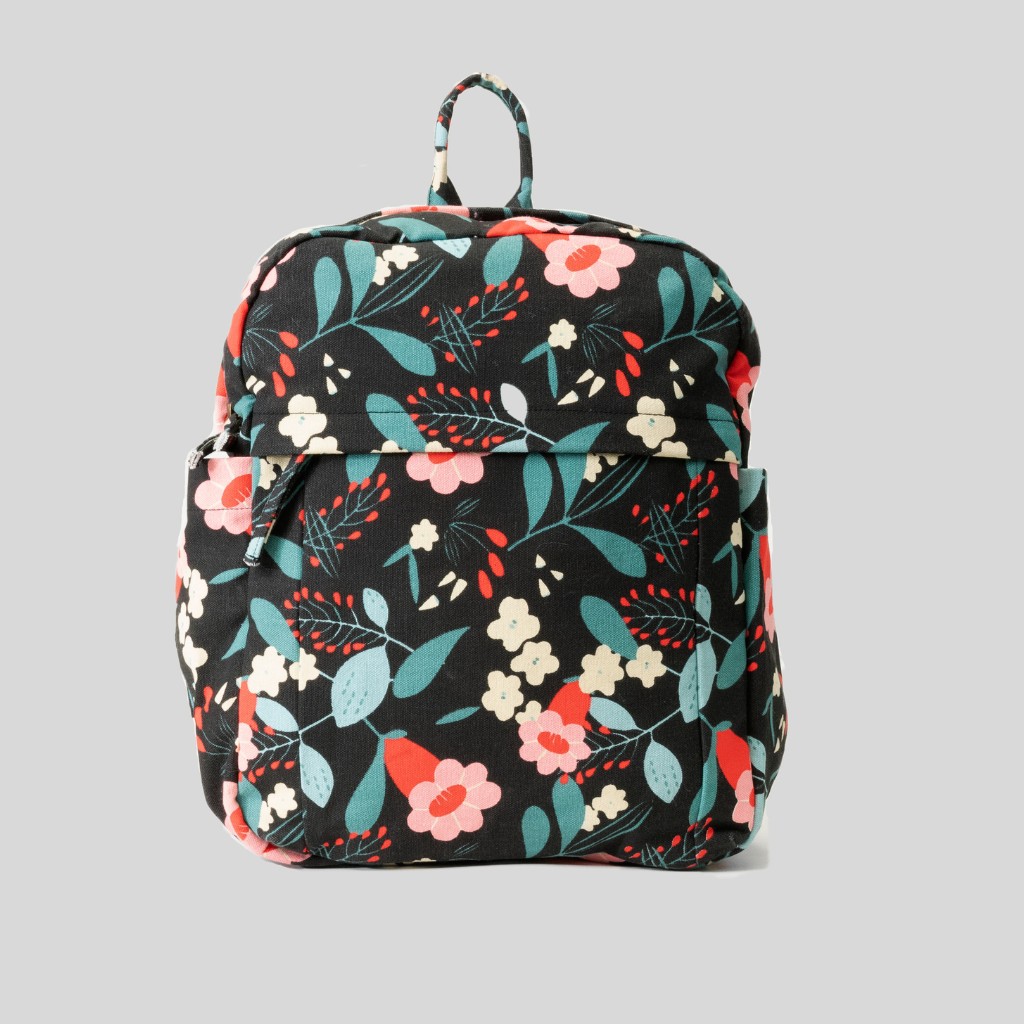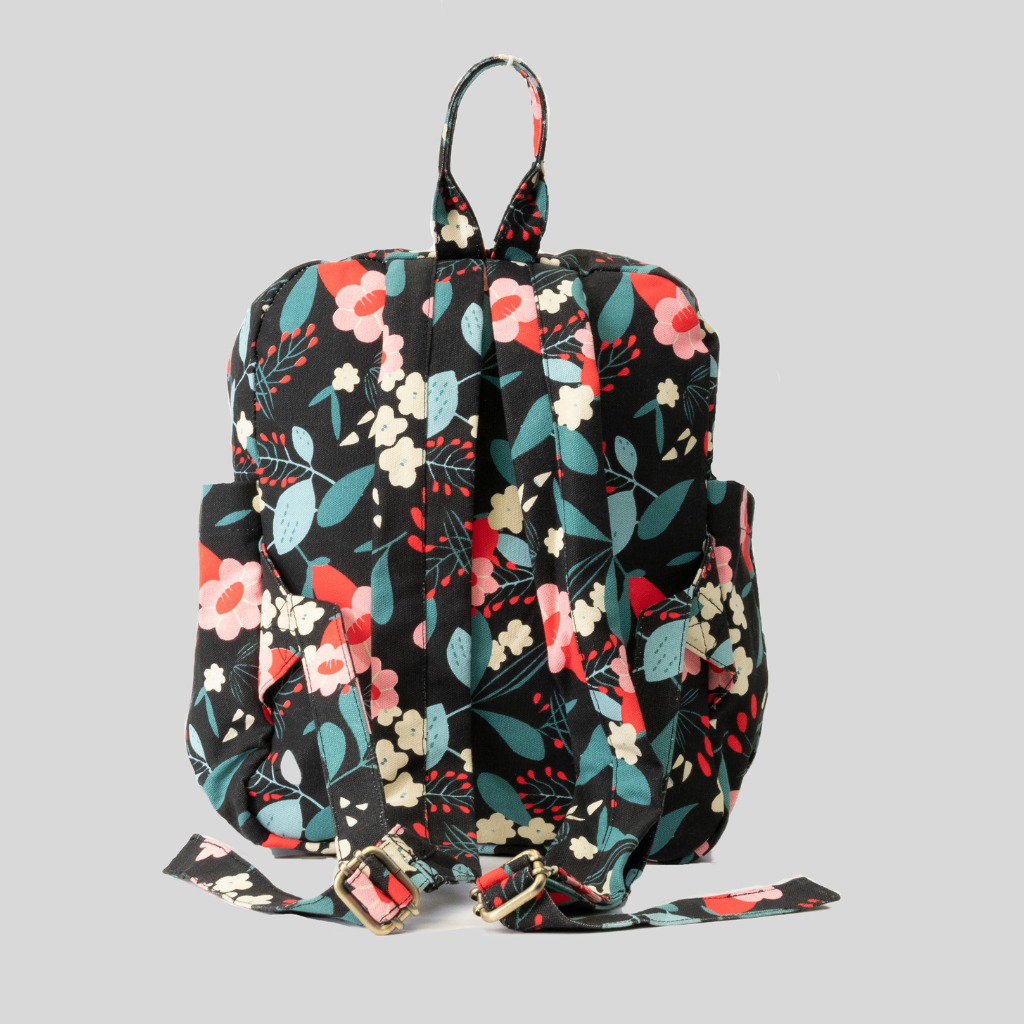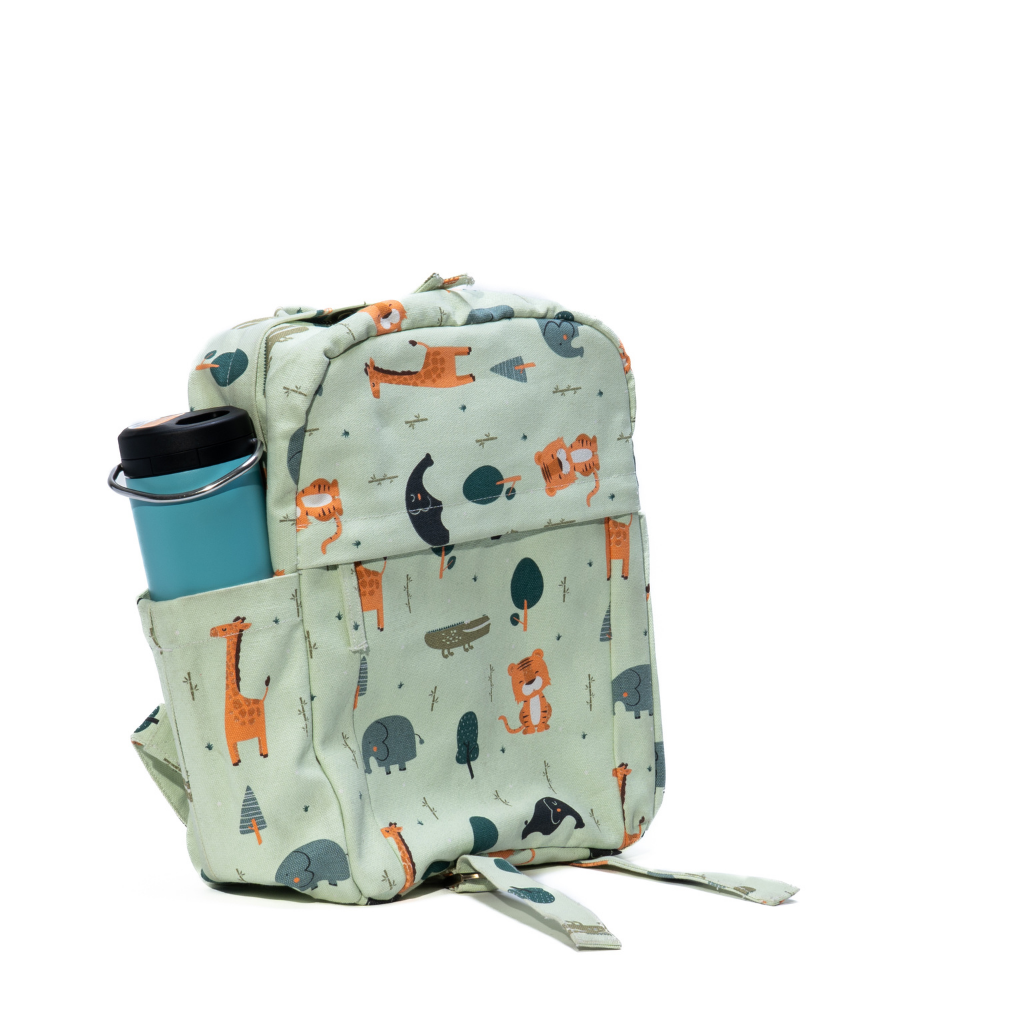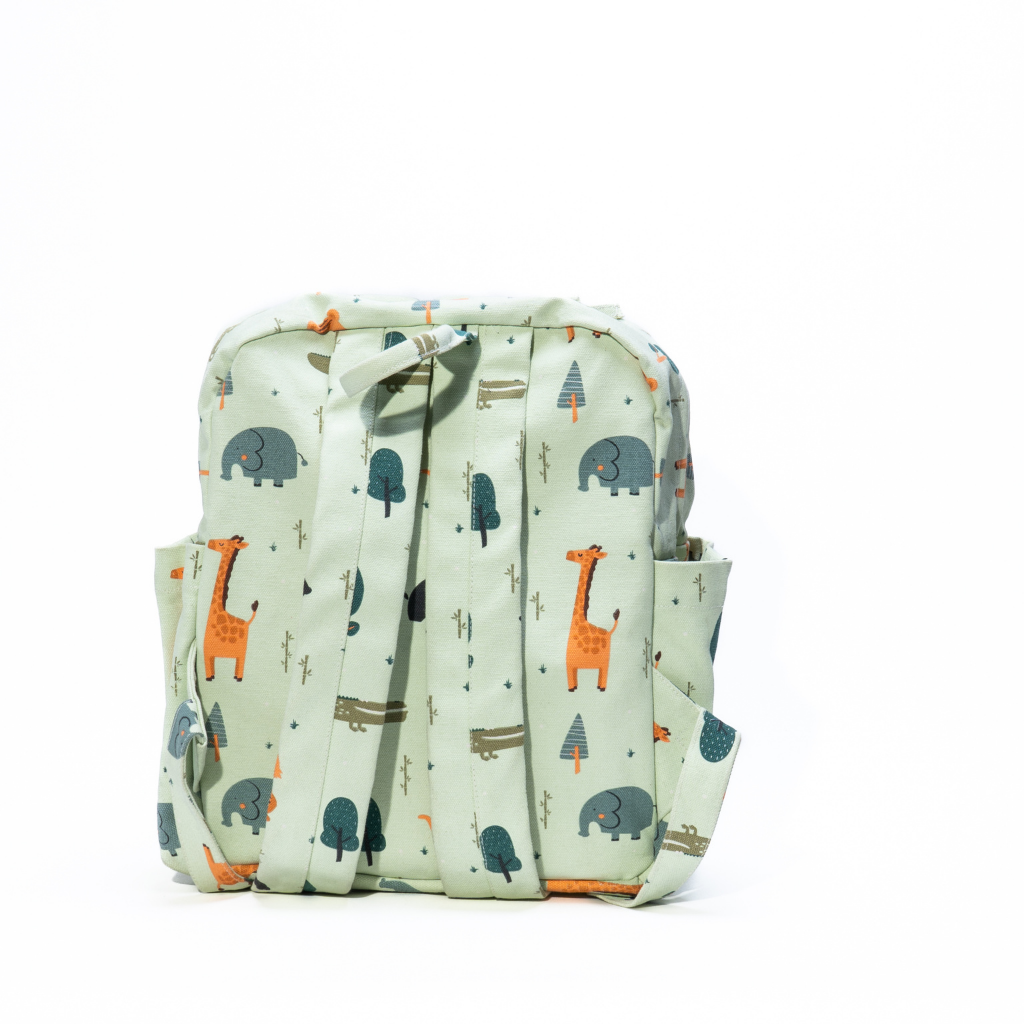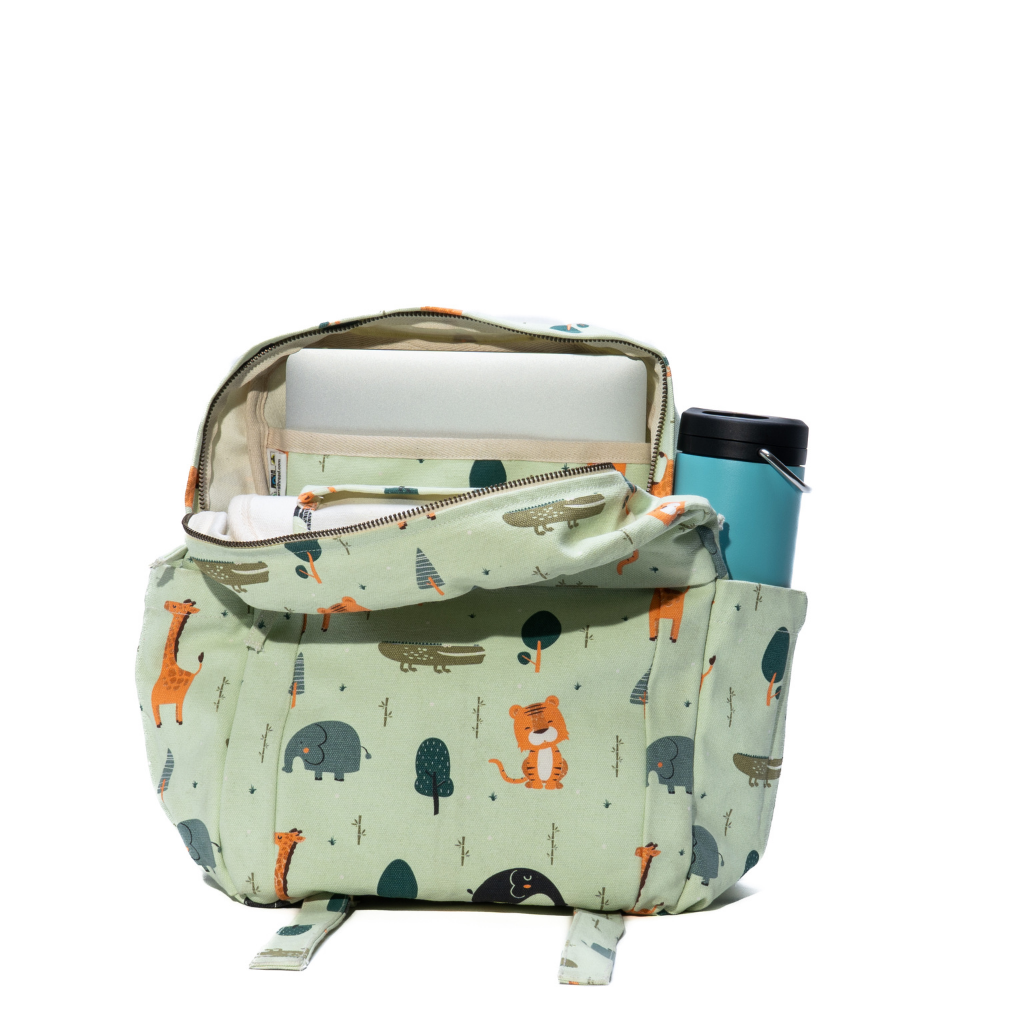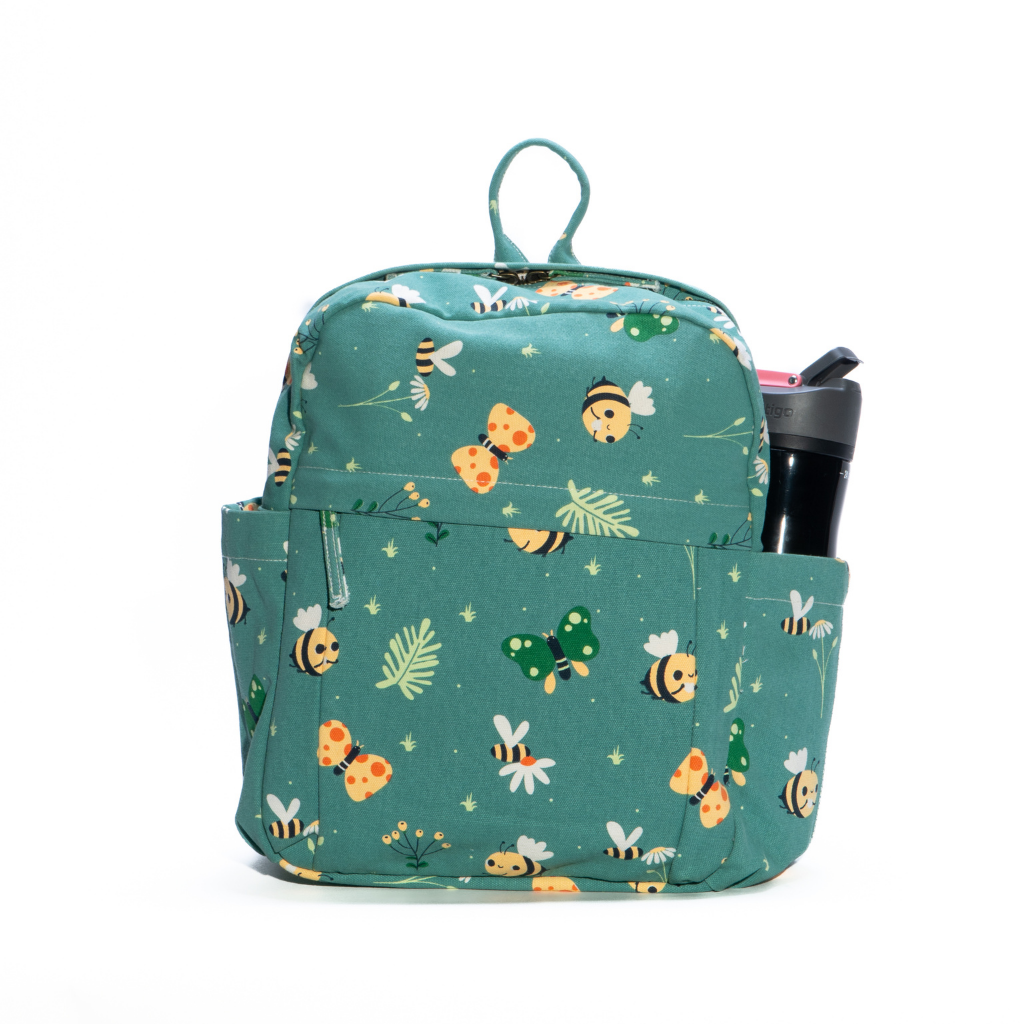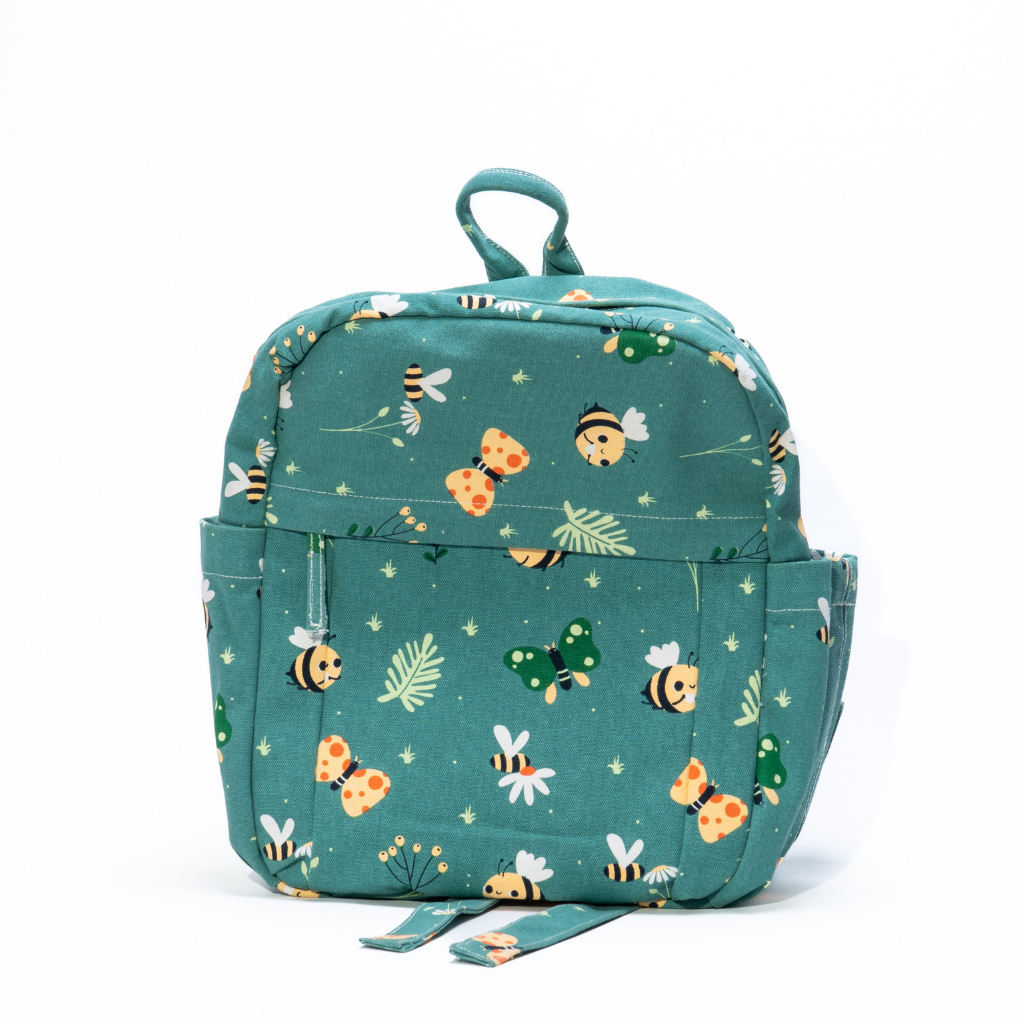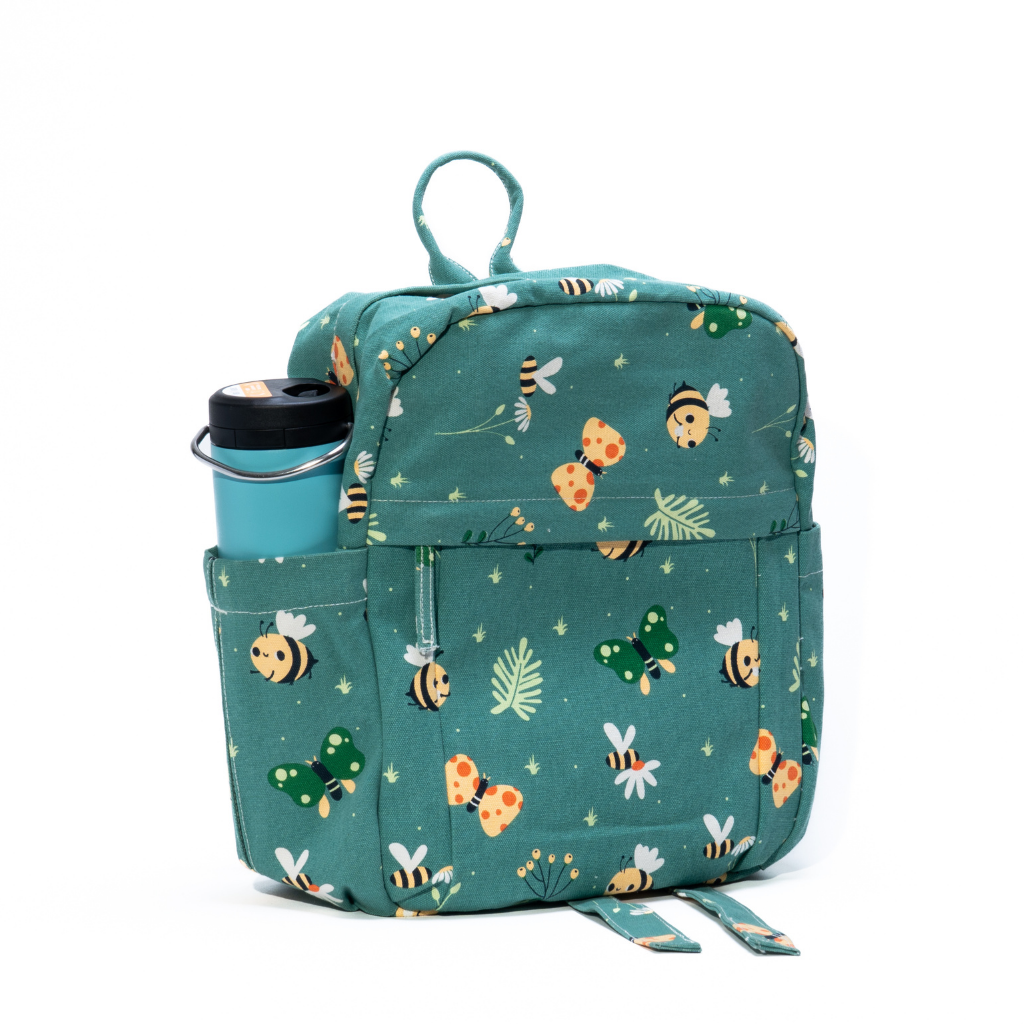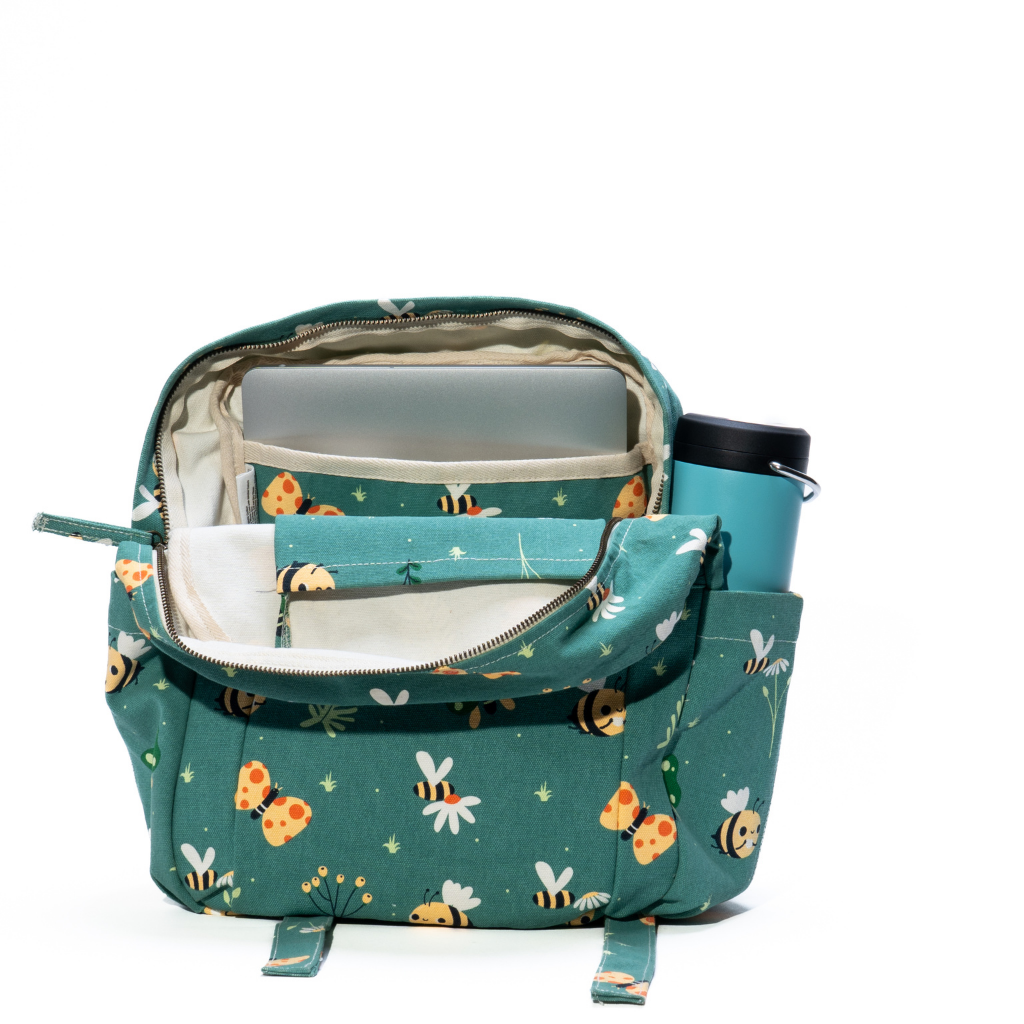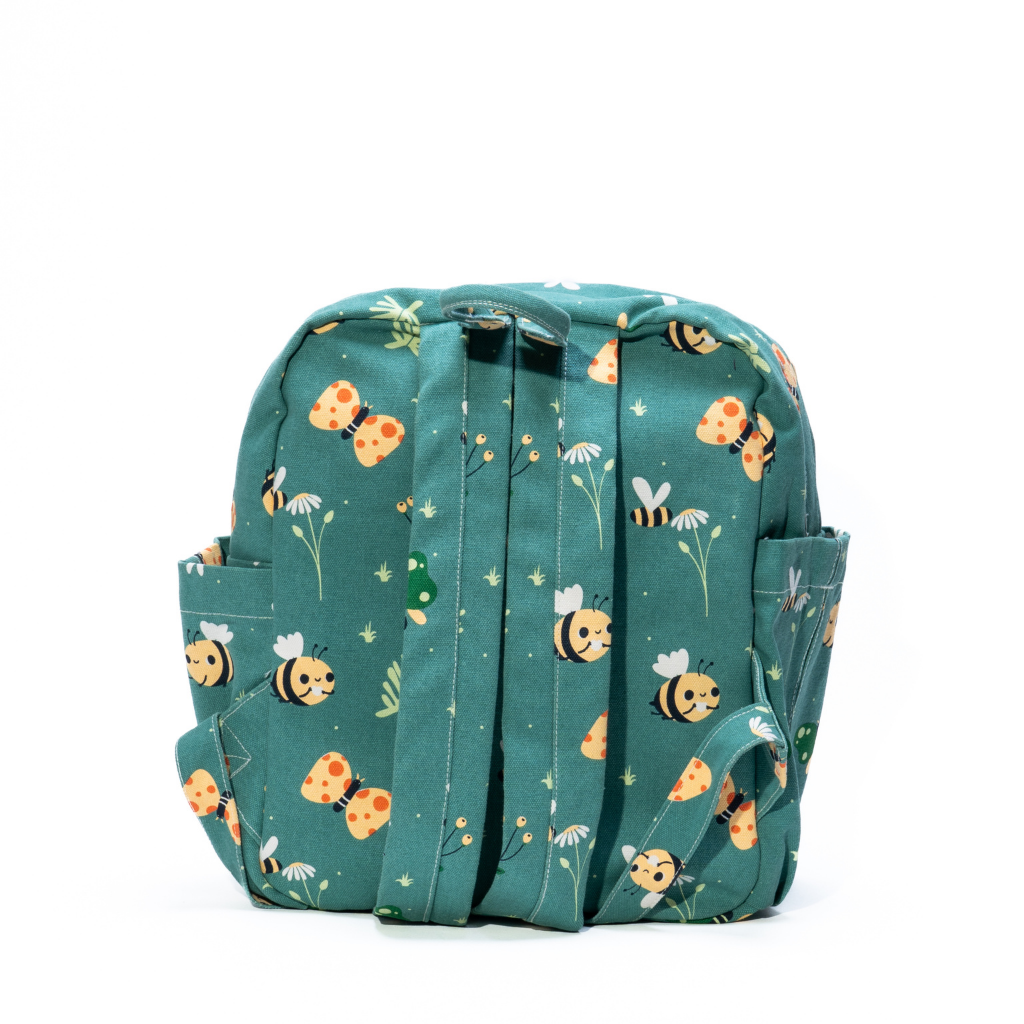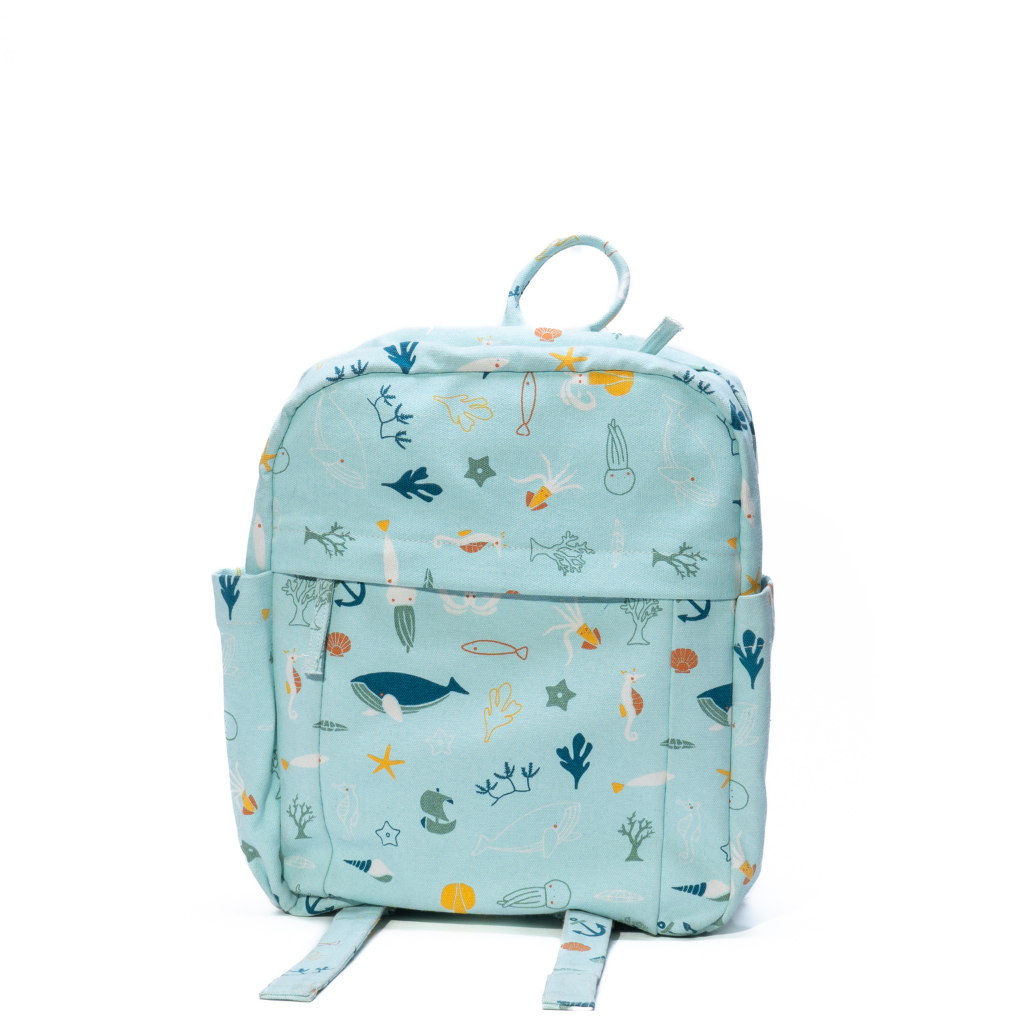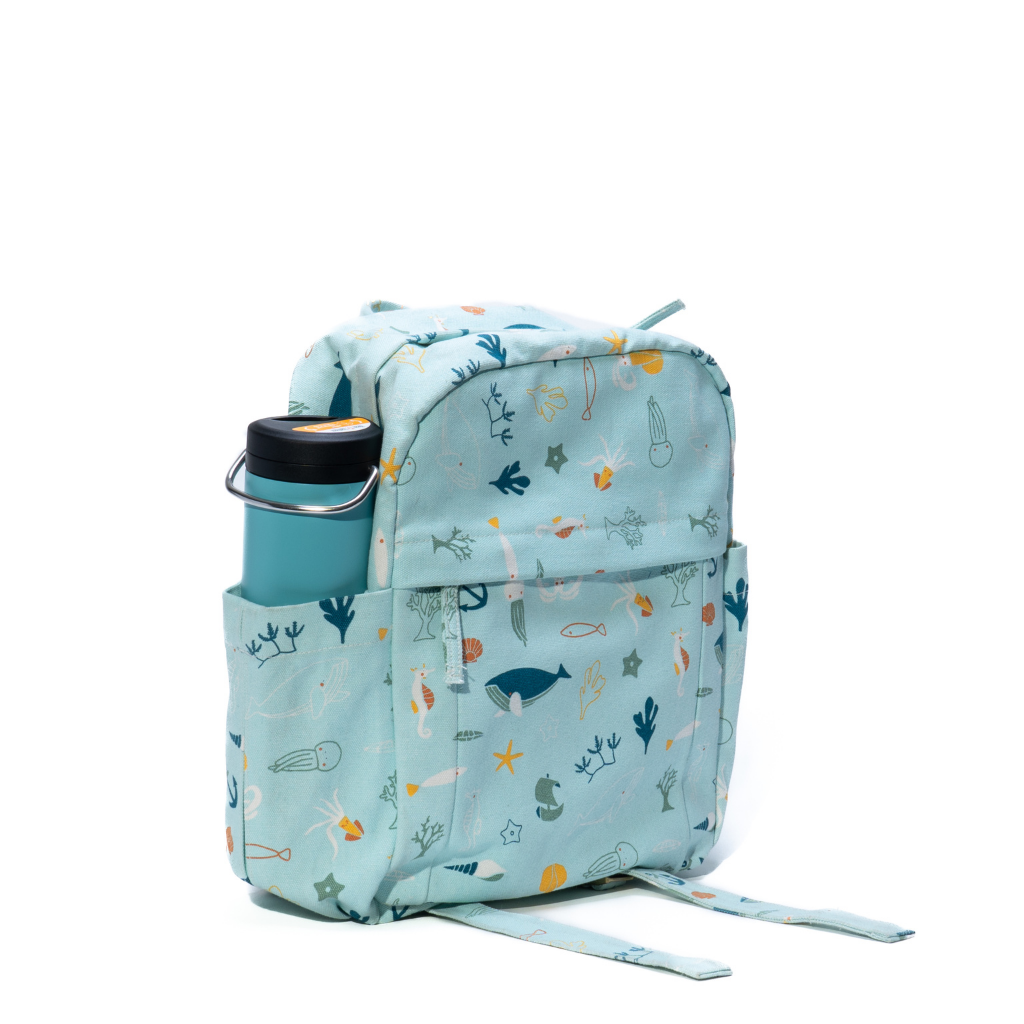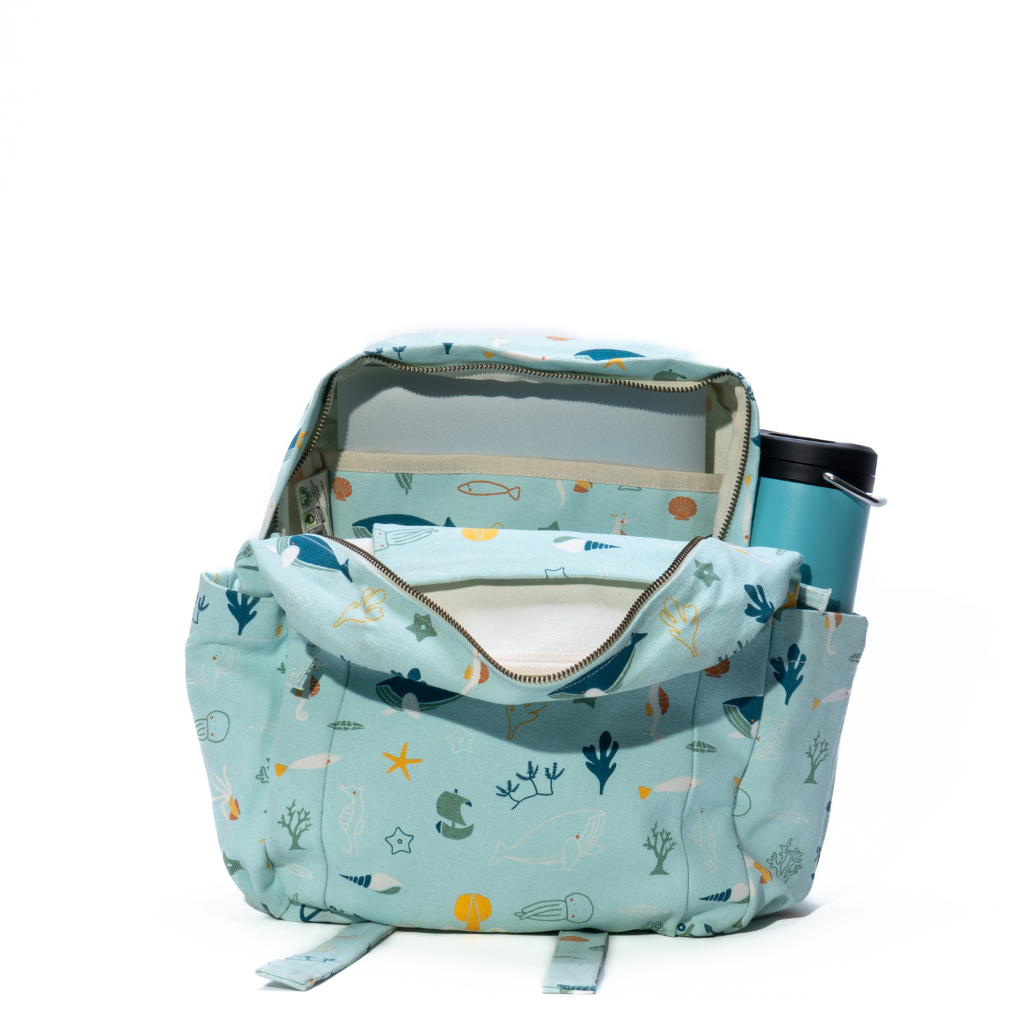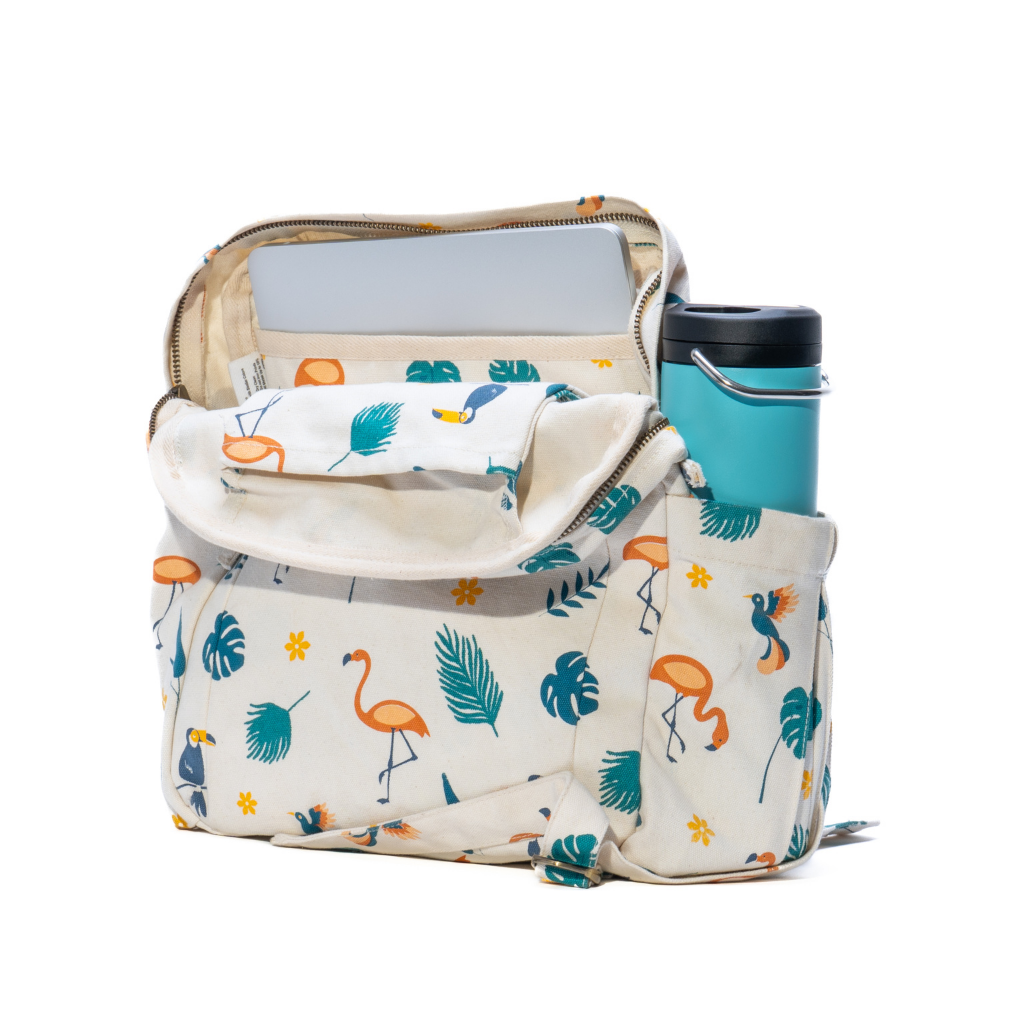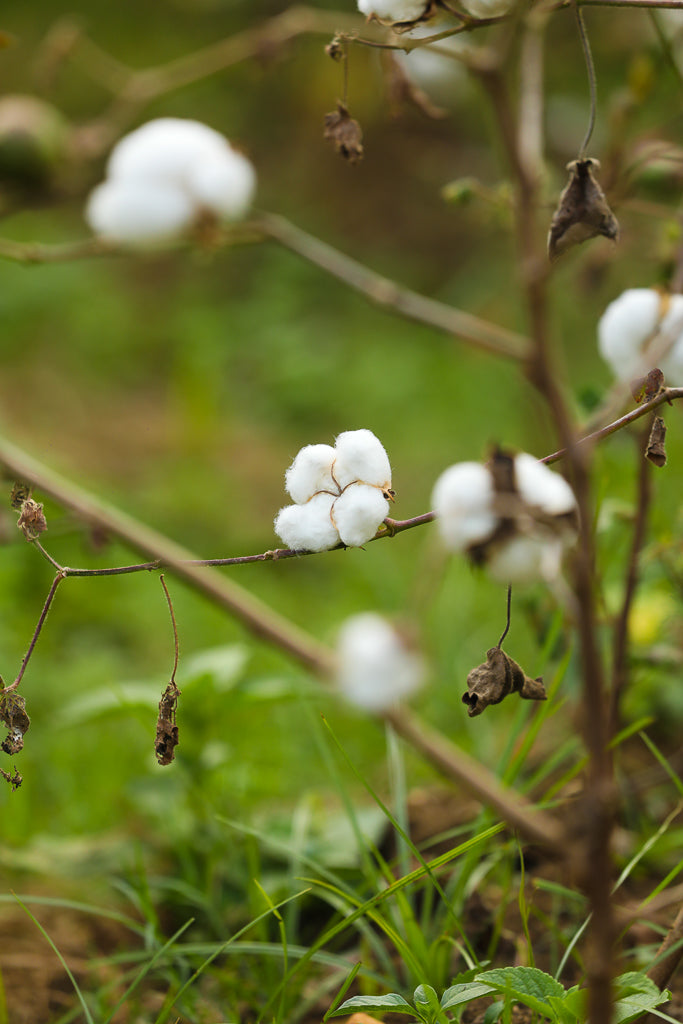 GOTS Certified
GOTS prohibits the use of toxic chemicals during processing and includes strong labor provisions to protect and empower workers.
Learn More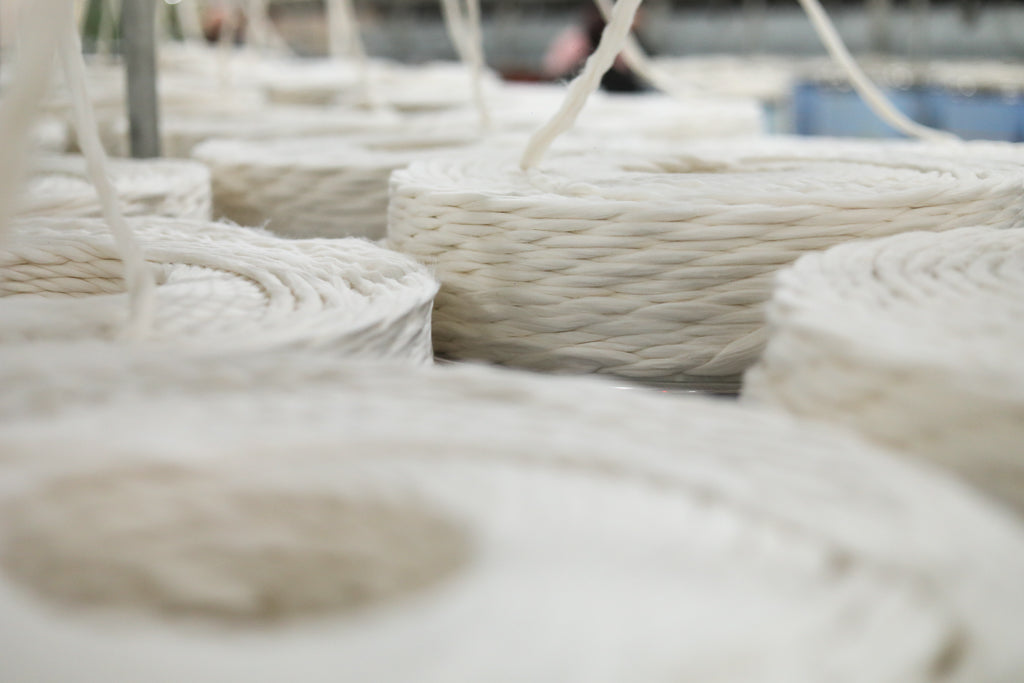 Fair Trade Certified™ Factory
When you choose fair trade products, you are a part of the movement that promotes and support sustainability throughout the supply chain.
learn more
School Ready!
Got this for my son for school. Roomy enough for his needs and love the different pockets/sections it provides. Love the outer water bottle holders. It can fit little kid 12oz water bottles or a decent sized water bottle of mine that holds 28oz. Anything up to about the diameter of a straight sided wide mouth mason jar (so around 3 inches) but my really big water bottle with 3 1/2 inch diameter is too big to place into it. Hope that helps someone. Haha.
Like another person mentioned- the straps end up dangling a great deal if adjusted for a small kid. I just folded the excess in half and the tied it into a knot on itself. I might trim and sew it at some point, or might just leave it. It doesn't really cause much of an eyesore or anything.
Nice size for Kinder-2nd grader
Nice quality backpack! Happy that's it's made of organic cotton and can be easily washed. Good size backpack for young elementary kids. When adjusting the shoulder straps to fit young kids there ends up being a lot of slack and the straps hang pretty low. I assume since these backpacks can be used by adults too the straps have to be pretty long. It is noticeably heavier than a comparable nylon/polyester backpack but still light compared to a loaded backpack. The shoulder strap buckles are a little harder to adjust since it's cotton straps and metal buckle vs nylon/plastic.
Wife Loves It
Got it for my wife for Mother's Day and she loved it! Lots of pockets and the perfect size for daily use.
Amazing quality
This is my second backpack from Therra Thread and I love this brand, I can't imagine having any other backpack from this company. This backpack is the perfect size for me and the color is so pretty and neutral ! The quality is so nice and sturdy!
Love this!
After lots of reviewing I decided to purchase a mini backpack for my son. It's been a hit with him (because it's blue just like he asked for) but I also love it because it fits everything he we need but isn't too big for his 5 year old frame. He still has room to grow into it but it's working great size wise even now. I also love the material it's made out of and knowing it's good for his little body and the awesome mission of the company is an added bonus! Two thumbs up all around!